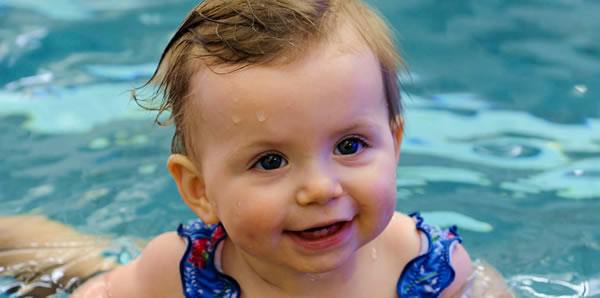 Frequently Asked Questions
We know you'll have lots of questions so here's our attempt at answering a few of them
Lessons for Babies
When can I start my baby swimming?
We're happy to teach babies as young as 6 weeks old.  Some parents prefer to wait until they've had their 1st jabs (usually at 12 weeks), but it's not a requirement. It's really about when you feel comfortable to bring your baby along.  If you want more information on immunisations, visit this page on the NHS Choices website.  Approximately 18 months is the oldest we recommend for starting our baby classes.
Is your pool warm enough for babies?
Our pool is a lovely warm calm environment, ideal for babies.  In fact, the temperature is kept at the perfect temperature for babies and children – 30 degrees Celsius.  The pool also uses advanced ozone technology, which means there is less chlorine to come into contact with your baby's delicate skin.
What do I need to bring with me?
All your usual baby changing and feeding bits and bobs plus:
your own swimming costume
2 special nappies for the water: a waterproof swim nappy (available from supermarkets and the club for £2) and a 'Happy Nappy' (available from the club for £12)
your own padlock for the lockers or £8 to buy one at reception
change for the parking meter (if you're driving!)
No need to bring: towels, shampoo, or conditioner, as these are all provided (unless you prefer to use your own, of course).
What are the changing facilities like?
Excellent!  Dolphin Fitness Club is a state-of-the-art leisure club.  There are baby changing facilities and there is a lift right by the main entrance, so you can bring a pushchair with you.  There are separate male and female changing rooms with showers, towels, shampoo, conditioner and hairdryers provided.
How close to the lesson should I feed my baby?
Ideally, try to give your baby a feed around an hour or two before the lesson.  They'll probably want a feed soon after the lesson as swimming is thirsty work!
When are your classes?
We have seven a week – 10am (for under 1s) and 10.30am (1-2 year-olds) on Tuesdays, Wednesdays and Thursdays, and 11am (2-3 year-olds) on Thursdays.  Courses last 12-14 weeks coinciding with school term-times (see our timetable for term dates).
How long are the sessions and the course?
Each session is 30 minutes long and the overall course is made up of 12-14 sessions, coinciding with school terms (see our timetable for term dates).
Can I start at anytime through the year?
Our courses coincide with the three school terms, so the start of a course is never too far away.  You can start a few sessions into a course if there is an available place, but ideally we recommend being there from the beginning.  We do also offer private sessions if you and your baby want an instructor all to yourself at times to suit you.
Can I get a group of us together for a lesson?
Yes!  If a few of you want to get together for a group lesson, we can accommodate up to 8 babies (with a maximum of 8 adults).  Please do get in touch with us well in advance if you want to do this.
Do I need to be able to swim to attend the course with my baby?
No, all our lessons are in shallow water, so an adult can easily stand and walk.
Can I bring a camera or underwater camera?
Sorry, but we don't allow people to use there own cameras in the pool area, as it can be very distracting and to protect the privacy of our other babies and parents.  If you want a pic of your baby in the water, talk to us and we'll try to arrange something.
Does my baby have to wear a 'Happy Nappy'?
Yes, we've found that a disposable waterproof nappy coupled with a SplashAbout 'Happy Nappy' is the most effective for swimming lessons.  Any leakage can cause the pool to be closed and lessons disrupted for everyone, so like most swim schools, we insist on this tried and tested method, which helps to put parents at ease.  The 'Happy Nappy' is made with stretchy neoprene and fits snugly with no ties, Velcro or elastic.  You can buy it from specialist stockists or at the club for £12.
Have a question we haven't answered?
Drop us a line at info@loveswimming.co.uk and we'll do our best to help out.