Prices
Here are the current prices for lessons
with Love Swimming
Children
ANNUAL BOOKINGS (2017-18)
Prices for annual bookings include the autumn, spring and summer terms combined, a guaranteed class schedule for each term at your preferred times, and three "catch-up" lessons per term in case you miss lessons due to holidays, birthdays, or sickness (24 hours notice by email required). Lessons for annual bookings begin in September (see timetable).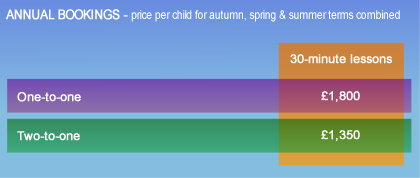 TERM BOOKINGS
Prices for the spring term 2018 are shown below.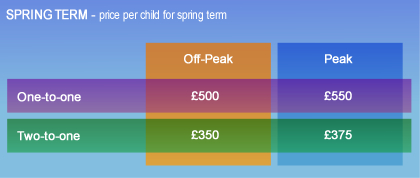 For details of all term dates, as well as fast-track course dates and lesson times, check out our timetable page.
5 LESSON PACKS
If you don't want to commit to a whole term of lessons, this might be just the thing. Buy a pack of 5 lessons and then book the lessons on an ad hoc basis.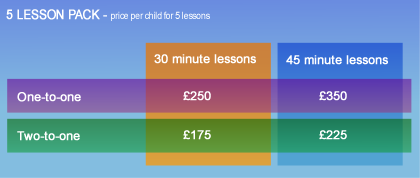 SINGLE LESSONS
If you're on holiday or just want to give us a try, these are the prices for single lessons (please contact us for availability):
FAST-TRACK COURSES
These are 4 or 5-day courses with a lesson every day. Please see our Fast-Track page for more information and prices.
Babies
SPRING TERM (2018)
Our baby lessons can be booked for a term at a time (term dates are the same as children's lessons, above). The lesson price includes one baby accompanied by one parent – these are group lessons with a maximum of 8 babies participating in total. See our baby lesson page for more detail.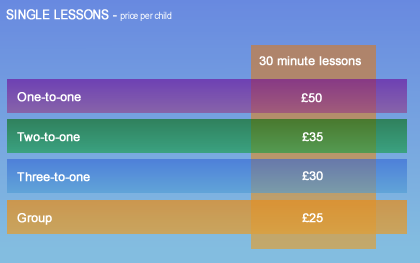 Adults
We offer one-to-one or two-to-one coaching in 30 or 45-minute sessions, which can be booked in blocks of 1 or 5 lessons. Please also check out our timetable to see when our lessons are held.
SINGLE LESSONS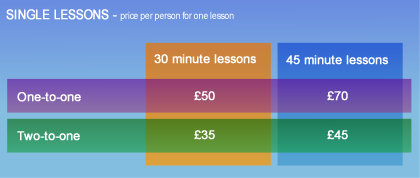 5 LESSON PACKS
*Dolphin Square Fitness Club members will receive a 10% discount on the 5-lesson pack. Don't forget to tell us you're a member.