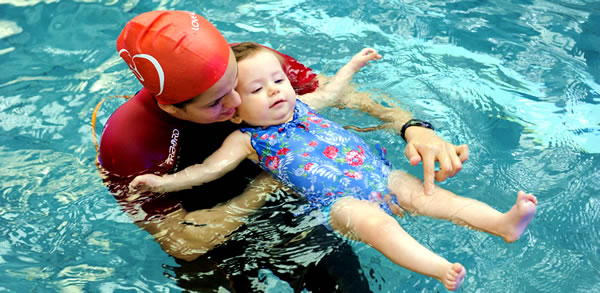 HAPPY Splashy!
for
BABIES
Introducing your baby to the water at an early age can be so rewarding for both you and your little one
Your baby will be developing and learning, from building confidence and strength to nurturing co-ordination and language skills.  And you will have the pleasure of seeing your baby having a whale of a time, while simultaneously strengthening that bond between you.  These sessions are a great way to make friends too – plenty of our groups meet up away from the pool.
What do the lessons involve?
We run small classes with a maximum of 8 babies – this keeps our classes sociable, but also allows us to give you individual attention.  You and your baby will be in the water with our instructor, who makes the lesson all about having fun.  Although enjoyment is at the heart of what we do, your instructor will be following a highly evolved developmental plan to ensure each baby is individually progressing over the 12-14 week course.  We gently build baby's confidence in the water with fun exercises and eventually your little one will learn to be comfortable on and under the water.  Seeing your baby laughing and splashing in the water really is an incredibly rewarding experience.
When and how long?
Our HAPPY Splashy sessions last for 30 minutes and we hold classes each week at 10am and 10.30am on Tuesdays and Wednesdays and a class at 10am on Thursdays.  On Tuesday and Wednesday, we teach our younger babies at the 10am sessions (under 1s) and 1-2 year olds at our 10.30 sessions. The session on Thursday is for 2-3 year olds and we now have a session at 11am on a Friday for under 18-month olds. We've summarized this in the table below. The overall course lasts either 10, 12 or 13 weeks – this coincides with school term times, so there are 3 a year with breaks for half-term. For details of term dates, see our timetable.

What age range do you teach?
We teach babies as young as 6 weeks old right up to 3 years old (although we usually like them to start a course before they're 18 months old).  From 2 years old,  we also offer our FUN Start for kids programme.
Exactly when you want your baby to start lessons is very much up to you and what you feel comfortable with.  Some parents like to wait until their baby has had their first set of jabs (usually at 12 weeks), but this isn't a requirement.  We're happy to discuss this with you and information about immunisations is also available on this page on the NHS Choices website.
What do I need for the lesson?
The one essential that we do insist on is a SplashAbout Happy Nappy.  This is available from us at the Dolphin Square club at a cost of £12.  It's a specially designed neoprene swim nappy that is worn over a waterproof disposable nappy (available at supermarkets and at the club for £2).  With this 2 nappy system, you won't have to worry about any spillages.
Apart from that, just bring what you normally need for your baby, your swimming costume, and a padlock for our lockers (these can also be purchased at reception for a one-off £8).  All towels, shampoo and conditioner are provided.  If you want to bring a pushchair, that's fine – there's a lift by the main entrance.  If you're driving, remember some change for the on-street parking.
How to book
Fill in our online registration form and we'll get in touch to confirm available dates and times.  If you prefer, you can give us a call, but please appreciate that we may be in the water, so we might have to return your call a little later. Payment is in advance and at least a week before the course begins.
Our lessons are booked for a term at a time (10-13 lessons depending on the term).  If you're new to us and worried about booking a whole term, rest assured that if for any reason you don't enjoy the first session, you can cancel and we'll refund the rest of the course fees. Please have a look at the table above to see which days and times would suit you, have a look at our timetable for term dates, then complete our online registration form. Send us an email with your preferred dates and times, and we'll be in touch to confirm availability and complete your booking. If you prefer, you can give us a call, but please appreciate that we may be in the water, so we might have to return your call a little later.

If you need more info, see our Frequently Asked Questions for babies to find out detailed information about our sessions, including where to meet, what temperature the pool is, and what facilities there are for you and your baby.