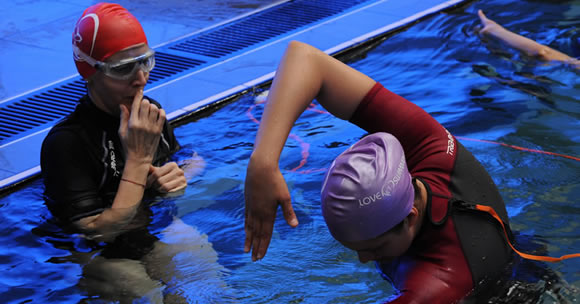 COACHING
for ADULTS
We teach adults (age 16 years and up) of all abilities from complete non-swimmers to international class professionals
Lessons and coaching
We offer a variety of lessons and coaching sessions depending on your individual needs.  Private (one-to-one) and semi-private (groups of two) lessons are available, as are specialist group sessions for teams or triathletes:
Adult tuition – one-to-one or groups of two
Fitness – group lessons
Triathlon – group lessons exclusively for Dolphin Fitness Club members
Coaching – personalised coaching sessions for swim squads, clubs and associations
Tailor-made
Our lessons are completely tailor-made, so please get in touch with us to discuss your needs.  Whether you're looking to get into the water for the first time, hoping to improve your technique, or training for a specific event, we can put together an individual coaching plan for you.
How to book
If you're ready to book, please fill in our online registration form and send us an email with your preferred dates and times. We'll be in touch to discuss your requirements, confirm availability and arrange the first session.  If you're looking to book for a whole group of you, please contact us first.